Without Your Help, North Atlantic Right Whales Could Go Extinct
There are only about 400 North Atlantic right whales left in the world. This critically endangered species, which grows up to 16 metres long, spends its summers in Canadian waters and migrates to southern waters off the United States during the winter.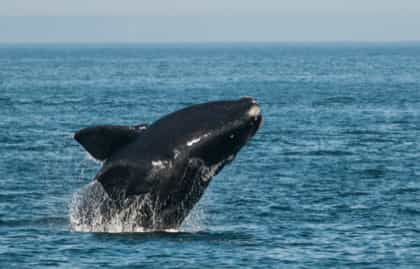 Hunted to near-extinction in the 19th century, right whales are now most threatened by entanglement in fishing gear and vessel strikes. Thirty whales—almost 10 percent of the population—were killed between 2017-2019 in Canadian and U.S. waters, with 21 of those deaths occurring on the Canadian side. An additional 10 whales have been seriously injured. Prior to this time, the number of right whales had been increasing and there was hope for the survival of this iconic species.
In response to the recent right whale deaths, the Government of Canada implemented several new measures, including closing areas to snow crab and lobster fisheries and reducing the speed of vessels. But this is not enough. We are running out of time—further actions and an ambitious long-term plan are needed to ensure that right whales recover. No more whales should die or be seriously injured.
On May 5th, 2020, Fisheries and Oceans Canada published a long-awaited draft Action Plan for the recovery of the North Atlantic right whale. However, the Action Plan has many significant shortcomings:
The Action Plan's recovery objectives are based on outdated science and do not reflect the current state of the North Atlantic right whale population.
There are no clear and specific targets for reducing the risk from human activities, specifically entanglement in fishing gear and ship strikes;
The Plan's cost-benefit analysis highlights the expense of protecting whales without quantifying the numerous benefits.
The current Action Plan will not save the North Atlantic right whale. But you can help.
The Canadian government is looking for public feedback on its Action Plan. Please let the Minister of Environment and Climate Change Canada, the Minister of Fisheries, Oceans and the Canadian Coast Guard, and the Minister of Transport know that protecting and recovering right whales is of national importance. An updated, modern Action Plan—reflecting the current status of right whales and with clearly defined commitments to recover their population and reduce deadly human impacts—is what the world expects.